The requirement for these shows to make the list was that they had to begin on or after January 1, 2000. So, sadly, shows like Farscape, Buffy, and Freaks and Geeks cannot make the list because they all technically started in the '90s, even though they all played into the 2000s.
If this was solely a persona list, a couple of shows would be switched, but I tried to be more democratic about it. Still, subjectivity people. I guess also I'm only including American shows, otherwise Skins and Being Human would probably be contending for a spot! And I'm not including any reality TV. For that matter, there are no crime shows in here either, so ha.
10. Tie - The Office (NBC) 3/24/05 - present & Dollhouse (Fox) 7/28/09 - present
I know, I know. But I had to give them a tie here! I couldn't fairly put Dollhouse when its first season really wasn't very good until about halfway through, but you could say the same for the first season of The Office too, yes? Yes. So, firstly, The Office. There's always something relatable, but maybe that's just because I have some personal experience working in offices. What makes it work is that it can be outrageous, but it's also very true to life. It's that delicate balance that the show has been getting (mostly) right since the beginning. And of course there's the epic Jim/Pam romance.
Now, Dollhouse. Anyone who knows me knows I don't have much love for Eliza Dushku's acting "abilities" (I could say the same for Tahmoh Penikett), but she's grown on me this second season, now that she has her own personality. The writing has gotten crazy good lately, and it's really quite sad that it's going down just when it's found its stride. And come on, Enver Gjokaj. Did you see him playing Topher? It was uncanny. He transforms himself into every personality, it's quite amazing. I can't wait to see what's in store the rest of this series.
9. Veronica Mars (UPN, CW) 9/22/04 - 5/22/07
8. Battlestar Galactica (SciFi) 1/14/05 - 3/20/09
had
to watch it, but when I did watch it, I really enjoyed it, though let's face it, there were a few boring episodes now and then. A lot of people hated the way it ended, and I admit I really, really hated one line in the very end, but for the most part I think it was pretty satisfying. In any case, the acting and writing were top notch, and let's not forget the production value, which was awesome.
7. Supernatural (WB, CW) 9/13/05 - present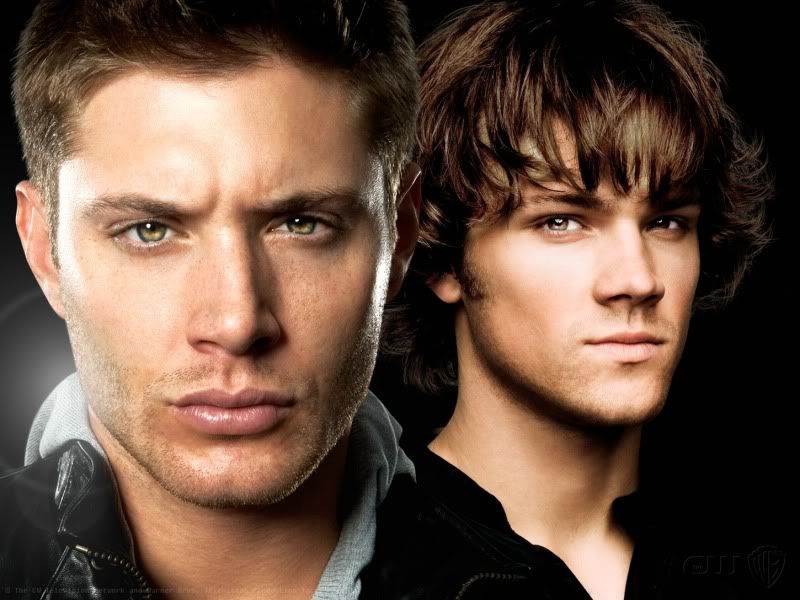 It's no secret to my friends that I'm a little obsessed with Supernatural. I've watched it from the moment it began back in 2005 and have been enthralled ever since. The first season was very episodic - that is to say, most episodes were one offs without much to do with the overall plot. About halfway through the season, though, the writers figured out that the story was less about what the Winchester brothers were fighting than about the boys themselves. Some would claim that the show has gone a little off the rails this season, and I sort of agree particularly with the self-referential bits getting a little out of hand, but it is still one of the most entertaining shows around. Plus there's Jensen Ackles and Jared Padalecki. Come on, now. I dare you not to cry one manly tear along with Dean or be taken in by Sam's puppy face.
6. Chuck (NBC) 9/24/07 - present
5. The Flight of the Conchords (HBO) 6/17/07 - 3/22/09
4. Six Feet Under (HBO) 6/3/01 - 8/21/05
montage at the end set to Sia's "Breathe Me"
makes me tear up, not to mention a certain death that came before that from completely out of left field and left me staring at my TV going "WHAT! NO!" That's how much I loved Nate. Everyone was flawed but lovable in their own ways, and I got completely sucked in every episode. There was humor, there was drama, and it all worked so well. Man, now I want to watch it again.
3. Friday Night Lights (NBC, DirecTv) 10/3/06 - present
2. Arrested Development (Fox) 11/2/03 - 2/10/06
1. Lost (ABC) 9/22/04 - present
Honorable Mentions: Scrubs (NBC, ABC), Gilmore Girls (WB, CW), Mad Men (AMC)
Shows I loved but no one watched: Dark Angel (Fox), The Invisible Man (SciFi), Everwood (WB), The 4400 (USA), Reaper (CW)
Too soon to tell: Glee (Fox), Modern Family (ABC)
Shows everyone raves about but I never had a desire to watch: The Wire (HBO), Firefly (Fox), Carnivale (HBO), Deadwood (HBO), Dexter (Showtime), Breaking Bad (AMC), True Blood (HBO), Weeds (Showtime), 30 Rock (NBC)
So, do you agree? Have I forgotten anything? Am I just completely wrong? Let me know in the comments!
Psst! Hey you! You should totally go like my Facebook page. I'd love you forever and ever. Click and like:
http://www.facebook.com/freshfromthe.com
.