These cookies are a staple of mine that I bust out whenever I feel like a quick batch of cookies. Except that I always forget that they're not necessarily as quick as you'd like, because you do have to refrigerate the dough for 1-3 hours. Details, details. I have not a clue where I first got this recipe, because doing a quick Google search, most of these are not quite the same, and never ask for the dough to be refrigerated, which I think is an essential step. I guess we will just pretend it is my own special cookie genius! Yes, that's it.
Don't they look scrumptious? As a warning, they are quite addictive.
Peanut Butter Chocolate Chip Cookies
Ingredients:
1/2 cup butter, softened
1/2 cup creamy peanut butter
1/2 cup granulated sugar
1/2 cup light brown sugar
1 egg
1 1/4 cups all-purpose flour
1/2 tsp baking powder
1/2 tsp baking soda
1/4 tsp salt
1 cup semisweet chocolate chips
Cream the butter, peanut butter and sugars until light. Add the egg and mix until fluffy. (Note: I also sometimes add a teaspoon of vanilla to give them a little extra something.)
Blend the flour, baking powder, soda and salt together well. Add these dry ingredients to the butter mixture. Add the chocolate chips. Refrigerate in a covered bowl for 1-3 hours.
Preheat the oven to 375°F. Drop cookie dough by teaspoonfuls onto lightly greased baking sheets. Bake for 10-12 minutes until edges are golden.
All of the wet ingredients. I usually just do this recipe by hand with the spatula because it's pretty easy and there isn't so much that it's overwhelming.
And the flour mixture is in.
I once tried adding in chocolate chips after refrigerating dough. It is not a good idea.
Fresh out of the oven, they are a little bit puffy.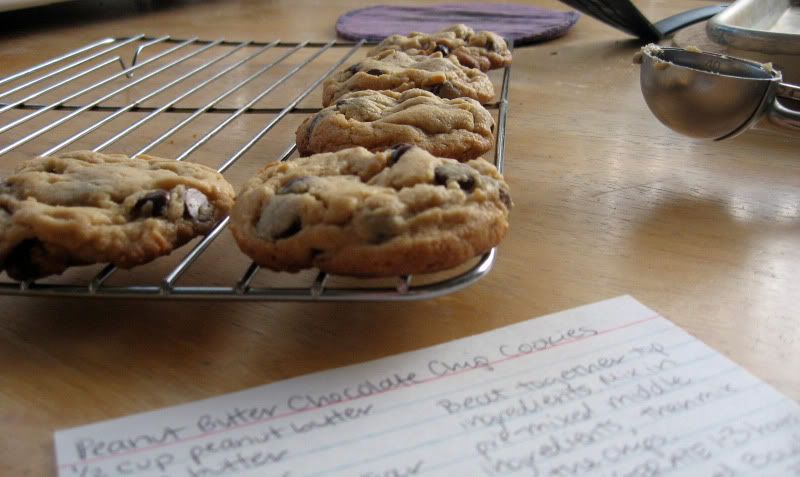 Give them a little bit of time on the cookie sheet, then remove to a wire rack to cool completely. Oh look, there's my recipe card! You get a glimpse at Jen's handwriting.
Some on the rack, some on the sheet. All mmm mmm good.
These cookies last pretty well for a few days in a cookie jar or other air-tight container. They almost always have a great consistency, and you can never eat just one. At least, I can't. Two? Three? Maybe sneaking a fourth? Yeah, it's been known to happen. You can probably also do these with crunchy peanut butter, but I don't really like cookies with nuts, even though I love crunchy peanut butter. Go figure.